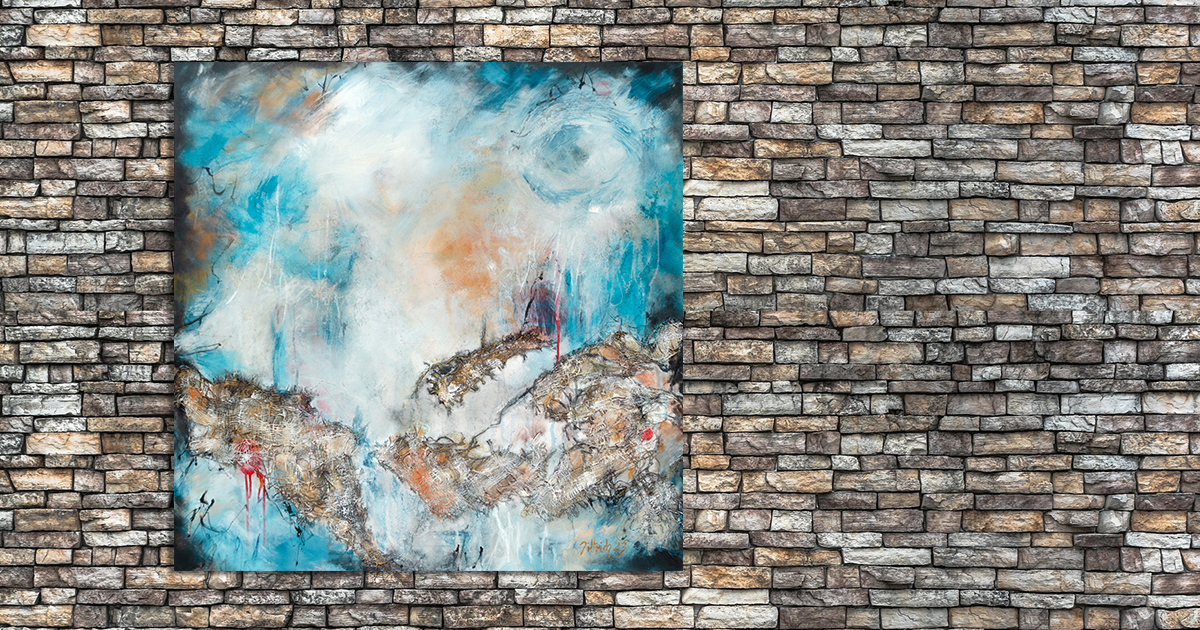 2302_Copyright-Image-by-Freepik_mit Copyright
2302_Facebook_Beitragsbild
Gemäldebeschreibung
Titel: "When the elephant greets the crocodile"
Kunstobjekt-Nummer: 2302
Maße: 100 x 100 cm
Technik: Jute, Sand, Acryl, Tinte, Ölpastell auf Leinen;
Rahmen: nein, Seiten bemalt;
Entstehungsjahr: 2023
Signiert: ja
Preis: € 1.800,–
Mögliche Subvention: 25 % vom Preis durch das Land Burgenland beim Kauf von Kulturgutscheinen.
Dieses Werk anfragen

Bitte beachten Sie auch meine AGB.
Rupfen vs. Rupfen
Als ich 2016 einen Teil der ehemaligen Fabriksräumlichkeiten zu meinem Atelier umgestaltet habe, fand ich in der einen oder anderen Ecke des Raums noch Daunen des einst bestehenden Unternehmens "Goldfeder" vor. Die Annahme war groß, dass hier in der Vergangenheit möglicherweise Tiere gerupft wurden. 🫣 Dies stellte sich allerdings als Irrglaube heraus: Die Daunen sollen in den frühen 90er Jahren "lediglich" angeliefert und weiterverarbeitet worden sein …
Heute nutze ich das Atelier tatsächlich zum Rupfen, allerdings ausschließlich von Jute, genau so, wie in DIESEM Werk angewendet. Die natürliche Faser eignet sich perfekt, um interessante Strukturen als Grundlage für abstrakte Kunstwerke zu schaffen. Das Ziehen der einzelnen Fäden erfordert eine geduldige Hingabe. 😅 Genau das Richtige für mich, um aus dem stets vollbepackten Alltag abgeholt zu werden.
Neben der Bastfaser wurde vor dem Malprozess auch noch stellenweise Sand auf der Leinwand angebracht, um eine erhabene Oberfläche zu schaffen. Durch verschiedene Erd- und Blautöne entstand unter Zugabe von viel Wasser dieses abstrakte Werk in Mischtechnik. Eingesetzt wurden Acrylfarben, hochpigmentierte Acryltinte sowie Ölpastellkreiden.
Namensfindung
Dieses Werk hatte vorerst keinen Titel. Bei längerer Betrachtung kamen mir in der unteren Hälfte des Bildes die Umrisse eines Elefanten und eines Krokodils in den Sinn. Einmal erhascht, lassen sich meine Eindrücke kaum mehr revidieren und der für mich nicht mehr wegzudenkende Titel "When the elephant greets the crocodile" entstand. Happy. 🥰